How can "Raven–Singer/Harpress" make your Wedding Day exquisite?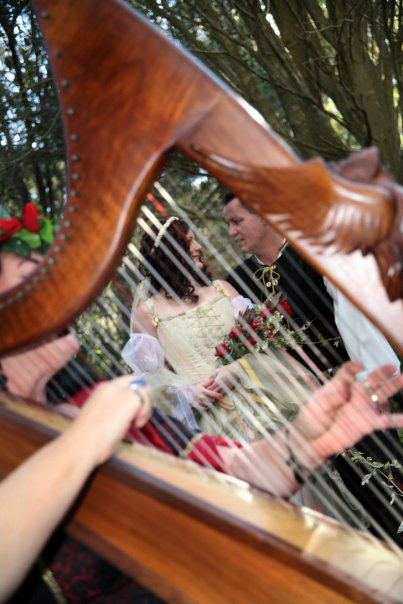 Firstly, the harp is one of the most romantic instruments, it instantly brings to mind heavenly creatures such as Angels and Cherubs, this is because historically the Bow was thought to be the first harp, and of course Cupid's skill with the bow & arrow is well renowned.
Just as Cupid's bow makes its mark, Raven's angelic, yet soulful voice calls to the heart, joined with the harp this creates an atmosphere of magic and mystery that leave a lasting and enchanting memory of your special wedding day.
Raven is able to play in almost any setting, ranging from gardens, chapels, churches, beaches, forests, beside rivers and lakes. Themes ranging from Contemporary Romantic, Medieval, Celtic, Pagan Hand Fastenings, Spiritualist, Shakespeare's Mid Summer Nights Dream, Fantasy, water and nature themes, after playing for 15 years she has experienced all types of weddings.

Wedding Ceremony Options
Option 1:
Raven will provide time usually 1 hour approximately one month prior, or at a time convenient to you before the wedding date to plan with the Bride & Groom songs for your wedding.
Raven's performance consists of approximately 20-30 minutes prior to the ceremony as quests arrive – a lot of people will be strangers and this music entertains and relaxes them, also putting them in a romantic mood.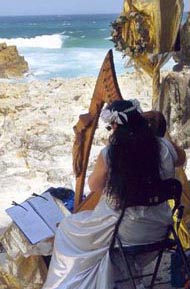 Raven plays the bridal entrance song, then the signing of the register song and then a finishing or recessional song. Raven then plays while the families & guests have photos taken with the Bride & Groom, usually about 1 hour. Should the Bride & Groom request Raven will play longer during the serving of light refreshments, finishing on the wedding party's return depending on time availability and cost.

Option 2:
Often Raven has been asked to play at the reception, this requires no prior planning appointment. Raven plays as the quests arrive at the reception often while the Bride & Groom are still having their formal wedding photos taken, this provides a welcoming and relaxing atmosphere for everyone to mingle and meet. Raven will play intermittently throughout the evening stopping for the cutting of the cake, the speeches and leading up until the night entertainment starts.
In pursuit of perfection Raven allows 30 minutes either side of her performance for setting up the small amp and tuning her harp, and then dismantling at the end of her performance. Any extra time spent travelling or performing for longer may incur added costs, these can all be discussed with Raven and decided on prior to your wedding booking.
Raven has been performing at weddings now for 15 years and provides a totally professional yet enchanting touch of magic to your special day.

A deposit of $100 is required for bookings